Arun Kumar, better known as Arun Kamal is a prolific poet of the contemporary era in modern Hindi literature with a progressive and ideological poetic style. Besides poetry, he has also written criticism and has done translations in Hindi. He was felicitated with the Sahitya Akademi Award for Hindi in 1998. He has also been…
Ashok Maheshwari is a renowned Hindi writer who did his MA in Hindi Literature from Rohilkhand University. In 1978 he took charge of Vani Prakashan, in 1988 also took charge of one of the major Hindi publications Radhakrishna Prakashan and in 1994, he became the Managing Director of the most prestigious publication institute of Hindi…
It is difficult to come across persons as multifaceted as Basant Chaudhary in the realms of literature and arts. With over a dozen books of acclaimed Nepali and Hindi poetry, Mr Chaudhary has the distinction of his lyrics having been sung by leading Bollywood singers. He has travelled to 18 countries across the globe to…
Debanjan Chakrabarti is Director British Council East and Northeast India. He has over 18 years of experience in leading education, development and cultural collaboration programmes in India and internationally for British Council. In his present role he leads on all of British Council's businesses and cultural relations work in East and Northeast India, covering 13…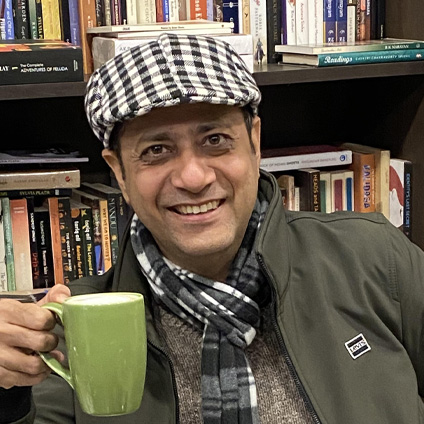 Dr. Dwarika Prasad Uniyal is currently the Pro Vice Chancellor (Development & Leadership)& Founding Dean, School of Economics &  School Of Business at RV University Bengaluru. Prior to his current assignment Professor Uniyal, was Dean of FLAME School of Business, FLAME University. He brings with him rich and varied experience of more than 25 years in premier…
Venkataraghavan is a writer, actor and strategy consultant from Bengaluru. His first nonfiction book has just been released from Penguin, while his children's books and short fiction have appeared with Pratham Books and in The Iowa Review. He is a stage, screen and voice actor, doing English theatre and reading audiobooks for Audible. Venkat worked…
Srinivas Udgata is a poet, story and drama writer, painter, novelist and translator from Odisha India. Some of his notable works include Purnima, Parbati, Dibya Purusha, Kipari Kahibi Mu, Nila Nayana Tale Kanta and Sesha Ratrira Prathama Sakala. He has been awarded the Sarala Award (2002) and Padma Shri (2008).
Louise Welsh is the author of eight novels including The Cutting Room, The Plague Times Trilogy and The Second Cut. Louise has a ten-year practice in opera with composer Stuart MacRae. Their most recent opera is Anthropocene. Louise was co-founder and director of the Empire Café, an award winning multi-disciplinary exploration of Scotland's relationship with…
Farrukh Dhondy is a British-Indian writer. Born in 1944 in Pune, he studied in Pune, Cambridge and Leicester Universities. He writes fiction, non-fiction, journalism, stage drama, has written extensively for TV and screenplays. His latest books are a second translation of Rumi and a life-memoir entitled Fragments Against my Ruin.
Tracy Chevalier FRSL is the author of 10 novels, including the international bestseller Girl with a Pearl Earring, which has sold over 5 million copies and was made into a film starring Scarlett Johansson and Colin Firth. Tracy grew up in Washington DC and moved to the UK in the 1980s. She and her husband divide…